by Mocha Momma
on
April 25, 2010
Every time I have some sort of adventure and my time is spent in the company of ridiculously awesome people, I tend to take a lot of pictures. Like any good iPhone user, I have been toying around with
the Hipstamatic camera
. The sheer number of pictures I have taken is astounding. There was a time when I thought, "
16GB? Why would I need all that space on my phone?"
and now I know the answer to it. BECAUSE I AM INSANE WITH THE PICTURE TAKING.
These photos are from my weekend working with the folks from Black Atlas. A bunch of black bloggers gathered together with the always interesting Nelson George and got to spend time taking a tour with a whole slew of fabulous writers and women who are just taking life by the throat.
Getting to meet one of them, Afrobella,
was a true joy for me as I've read her for years and I have mad respect for the woman. She would be too shy to approve of it, but she is
all that.
Without further ado, here are some pictures from my little jaunt up to Chicago.
Any hotel that provides Aveda products IS THE ONE FOR ME.


I spent most of the time with a chest cold so let's title this one "For Medicinal Purposes". Honestly, I felt better after drinking this.


Black Atlas attendees. I was lucky to meet them. We all got along so well it was a little scary. I am, possibly, now inducted into a new club of Awesome Ladies. Don't worry. It's not a real sorority. (They are Raquel, Patrice, and LaWanda. Check out their blogs.)


For some reason I always take a picture of my hotel bed and when this one came out it looked like something from a magazine from the 1960s. Everything about this room was vintage.


Woody Dixon's Blues Garden.


At Blue Heaven there are these masks of Black musicians. It is a breathtaking display.
The entryway into Bronzeville in Chicago.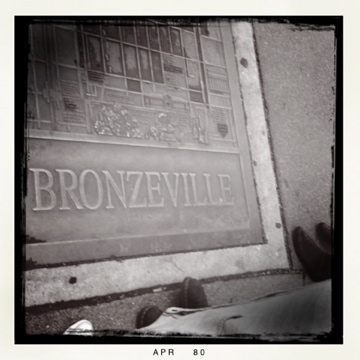 Bronzeville. Look into it. Great Chicago history there.


The tour guide leading us on some serious history.


Wouldn't YOU buy a copy of Mominatrix from this woman?


Catherine and Julie or, as I like to call them, The Wonder Twins.


Julie really couldn't be any more incredible. This is a woman who, when she's listening to you talk is realllly listening.
And then, of course, there is always the obligatory flight home picture. It's just that this one is made all the better by that Hipstamatic app.