by Mocha Momma
on
August 11, 2010
There are two things that you should know about me. One, I have an incredible sweet tooth. It's detrimental to my health and hips but I struggle through and have learned to appreciate my curves. My dentist isn't so happy. Two, I have a sensitive nose and can smell really well. That second one didn't come in handy last night.
It's rare for me to lock my bedroom door but it closed just right when I went to bed so it locked easily. That's why my son had to call me on my cell phone while he was standing outside my bedroom door.
"Mom. It's Mason. Can you hurry up and unlock the door?"
The clock read 3:15 and I assumed he meant the front door and that he'd lost his key and was just getting home. He was standing outside my door when I opened it and I still didn't have my glasses on yet. He is a formidable figure standing tall and broad-shouldered. It's a good thing I wasn't groggy or I would have thought a stranger entered my house and then my body would have triggered quickly into karate / self-defense mode and I would have kicked that poor kid's butt.
"There's a really bad, scary smell coming from downstairs. It smells like we're having a fire."
I ran back to my bedside table to feel around for my glasses and hurried downstairs with him. Immediately, I opened up the dishwasher from last night's load to see if something plastic had gotten stuck and started melting. But no bad smells were coming from there so we ventured into the basement and were hit with a worse smell. I wondered aloud,
"What do electrical fires smell like? This is HORRIBLE."
When we opened the furnace door we were hit with smoke and realized we were in trouble. No fire yet, but the smoke was overpowering. He grabbed a tissue and some rubber bands and made the most hilarious looking mask for his face. I wish I were more lucid to have taken a picture, but honestly I was just scared. My mother was upstairs in her room asleep. How long would it take to get her to remove her breathing machine and wobble down the stairs when she is as sick as she is? My other son was sound asleep. My nephew, who is 10, was asleep as well.
Finally, we decided to call the fire department and when I asked, "
What's the number to non-emergency? It's not like this is a full blown fire."
Mason looked at me like I was crazy.
"Uh. Mom. I think you just call 911."
He started laughing at me not realizing that there ARE non-emergency fire and police numbers. When we got ahold of them we begged them not to wake our neighbors at this hour and please come with no lights or sirens. They did. And they were fast. (Well done, SFD! I'm proud of ya!)
Two trucks came and so did the newspaper carrier. It was a ridiculous sight this morning. It was barely 3:30 when Mason shared with me that he had gotten up to eat some pie.
My genes are strong. He has the sweet tooth mark upon him. When he returned to the kitchen around 3 to check and see if he left the pie out he smelled it. But he said it was also the dog, Lola, who scratched at the door to make him think he had to let her out of his bedroom for some reason. She is not the middle-of-the-night-peeing-dog thankfully. The pie he desperately wanted to eat was a lemon icebox pie that I made  a few weeks ago for the first time. In fact, I mentioned it on Twitter and some friends decided that they were going to crash my house to try it out. Sidenote: stop mentioning how great a cook I am on social networking. KIDDING, ALEX AND DESHANEE. I love y'all. After pie they even dragged me to a movie so it turned out to be a fun night.
Mason had gotten the pie out of the refrigerator to cut himself a piece. When he woke up later he wondered if he had forgotten to return it to keep it cold. That's when he and Lola went exploring downstairs to see what the smell was.
So. The firefighters came and called another truck (with a ladder! yay! this is a real adventure!) to bring a powerful fan in to blow into the basement to help relieve us of the smell. I even knew one of them as he was walking through my front door. "
Hey, Kelly. How are you?"
Sweet guy.
"I'd rather not be up right now, but there's no fire and just smoke damage so actually I'm doing very good."
My nose failed me last night because I didn't smell a thing and the smoke alarm would have gone off sooner to alert me, but Mason was already awake. I keep thinking how that kid has been with me during some potentially tragic situations. The last time it was when we had an earthquake two summers ago and he actually wasn't supposed to be at my house that night, but he stopped by anyway because he was with friends who lived close to me and he didn't want to make them take him to his dad's house.
My sweet tooth and the powerful DNA that I passed along to my son is what saved us.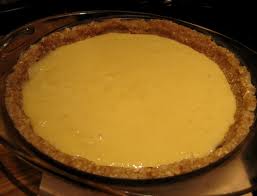 You want the recipe, don't you? Here it is, because it might save your life, too:Mix 2 cans of sweetened condensed milk6 egg yolks1 cup of fresh lemon juice.
Pour into a graham cracker pie crust, back at 350 degrees for 15 minutes and then chill for 6 hours in the refrigerator. It's the perfect summer pie because you only use your oven for a short time. It's important when it's this hot out.
I love my children and my family and want to keep them safe. We are waiting for the A/C guy to come out to the house and fix the motor that blew so that we can have air conditioning today. The weather report is already calling for it to be unbearable and I'd hate to have to move everyone, especially my mother. And yes, by 4:00 am this morning I grabbed a cup of coffee and a piece of that lemony life-saving pie. It was the only thing I could do lest I collapse in a weeping heap on the floor. I know it's expensive to fix this and then on top of that to get emergency smoke damage cleanup companies to come out to clear out the smells. I've already installed every single Glade plug-in room freshener that I had and even had pancakes just now to see if cooking those in the kitchen would help the smell. It hasn't made a dent. Everything still has a distinctly fire-y smell that is plastic-y and burn-y and I am anything but happ-y.
Next time, I'm making pecan pie. We'll see if that wards off bears and zombies or the occasional tornado.