by Mocha Momma
on
November 13, 2012
Speaker of the House, John Boehner, wants to extend George W. Bush's break to the 1% of America, but that's exactly what will increase the wealth gap we see in schools. In January of next year there will 
$1.2 trillion in across-the-board cuts to reduce the deficit over 10 years
.What do I mean by the wealth gap in schools? Let me explain..
When Weren't There Budget Cuts to Teachers? Ever Since I Can Remember...
The first year of teaching for me was a tough one. Illinois had just done a massive early-out retirement and jobs were available. I was offered a job at my first job fair after college graduation. At the time, I had 2 children at home and had gotten married and pregnant within that first year while teaching high school sophomores and seniors. I spent the better part of the year wondering what I had gotten myself into. All of my hubris and optimism about teaching went out the door when bureaucratic policies and cuts seemed to bury every effort I strained to carry out. The first time I picked up my paycheck I walked back up the stairs to my office, opened it up, and cried. I tirelessly wrote lesson plans and graded papers and fretted about my evaluation of those efforts for
this
? It couldn't be right.
That was 19 years ago and, since then, I began a master's degree in curriculum and instruction and abandoned that for one in educational administration. As a single mother trying to hang on to what little my profession afforded me, it was working out until I lost my home and it's contents as well as a portion of my pension to my ex-husband during our divorce. It was true starting over for me and the last three years I have been denied a raise while all the while inflation and cost-of-living has been skyrocketing around me. That is to say nothing of the fact that I have had two children in our public school system with a 504 Plan and an IEP. My youngest attends a vocational center for half the day in high school and it's been the best thing to happen to him. Two weeks ago our district proposed cuts that will affect my position personally and will also take a huge cut from the vocational center that benefits many district and county students. To say that I'm intensely interested in tax cuts and school budgets and the impact it has on education in my district is an
understatement
. The students served at vocational centers across the country give skills to students interested in law enforcement, mechanics, and graphic design. We're going to severely undercut the efforts to take those students, many of them nontraditional, because we don't want to tax the wealthiest 1% of our country? These are necessary jobs we're training them for and these are students who will live in our communities and contribute to them, but without those programs we're undercutting ourselves, too.
The Great Recession's Continuing Impact on Illinois
Let's pull back the lens a bit and see what this looks like at the state level. Back in May of this year state funding for Illinois schools came up with a nearly 4% proposal measure approved by the House. Elementary and high schools for this year alone would see $259.6 million in cuts. In July, when the cuts came through, they actually totaled $210 million or 3.1%. (Source:
Chicago Tribune
) Our state superintendent, Christopher Koch, didn't think it was as bad as he originally thought. For a struggling school district, this is disastrous. If you
cut across the board for all schools
and decide to take 3% of state funding away from everyone it ends up hurting rural and struggling schools far worse and impacting them in unfair ways. It's the little children of all that this will effect, too, with cuts to Head Start, another benefit my children were able to attend.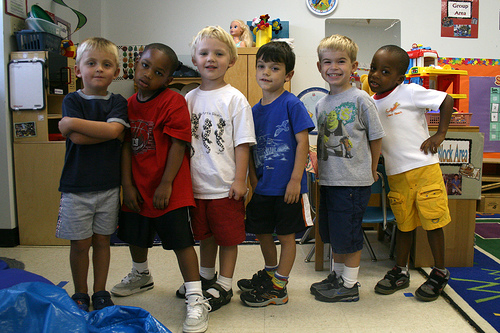 Photo credit to Woodley Wonder Works
Let's pull back even further and check this out on the federal level. At the federal level we start having conversations about not only that horrid "achievement gap" buzzword, but we can also discuss what the "wealth gap" really means. If we want to look for where the money is that can go to education we need to consider that
more than $800 billion will come if we let the Bush tax cuts expire
for the wealthiest 2% in this country.
There are across-the-board cuts that we will have to foot the bill for when the richest 2% in this country aren't paying their fair share. It comes at the cost of individuals who will surely be hurt in the process: students, patients, and senior citizens. People who, in my strong opinion, don't have a voice and for whom I am speaking. I am a tenacious advocate for students and those cuts could mean almost $5 billion in education cuts alone. In my school district we educate an enormous population that are below the poverty level. Almost 60% of our students are on free or reduced lunch due to that poverty. Many of them need the Medicaid that provides their healthcare because they have to be healthy when they come to school to learn.
Some Hard Facts To Swallow:
• people who earn
more than $1 million
a year get an
average tax break of $160,000
and nearly
1,500 people who made more than $1 million paid no federal taxes in 2009.
• Too many companies like
GE and Verizon pay zero dollars in federal income taxes
.
That is not right.
• These
cuts will affect more than 9 million public school students
and nearly 
80,000 Americans will lose jobs
that support students.
• Our
current system is rigged against middle-class and lower-income Americans.
•
Investments that strengthen our economy
as well as protect the values that Americans hold true wouldn't hurt things we need like
Medicare, Social Security, public education, safety, and transportation
.
I am, obviously, passionate about education and cannot imagine what schools will look like if we don't act. In my world of education we seem to talk a lot about the "achievement gap", but we fail to connect that to these cuts. Even so, "achievement gap" is an odd turn of phrase. If I go to the doctor and have an iron deficiency will my physician refer to me as having a "health gap"? What is the responsibility of my doctor then? It is to address my own personal health and prescribe accordingly. As a patient, I first want to address the fuel I add to my body every day in the form of food. Am I eating healthy choices that give me enough iron? When was the last time I ate dark, leafy greens or legumes or red meat? I would insist that this conversation take place. That's why I'm insisting on this one.
The same is true for opportunity gaps in systemic education.
We don't have an achievement gap in education. It is a wealth gap
. It ends when we end the Bush tax cuts. It ends when we start to see the real value of education and tie it in to the serious cuts to education and insist on having that conversation.
Eat your vegetables. Pay your fair share of taxes. Seems simple, right?
Let's Break This Down Some More
If we just slash across the board then the school districts in the United States that need this extra funding the most will be the most hurt. Special education, ELL, and Head Start programs, all programs that support students that need it the most, will lose out. I'm not arguing for an increase in federal spending, but I
am
arguing that the choices made during this time have to ensure that fairness of these cuts, with regard to public education, wins out in the end. The child poverty rate in 2010 in Illinois was 19.4%. When we cut programs like Head Start we're talking
83.7% of children who are served in preschool programs
 who will not be able to get these programs.
We can cut our way to academic excellence! - No teacher. Ever.
Teachers Perform Miracles
One of the things that give me great hope as an educator is watching the fabulous and innovative teachers who serve children. They're spending their own money  (up to $1,000 each year) on their students because the cuts we already have in place don't provide for all students. That's
$1.3 billion dollars out of the pockets of teachers
collectively. But, it's more than that. Schools don't leave children behind, some students come to us that way. When I see those magical teachers who can take a student's learning from one point to another (higher) point, I am always encouraged. Last year we celebrated at my school that an entire classroom of students working below level were now meeting the standards set for us by the state of Illinois. If you don't know a magical teacher, come visit my school district. We have our fair share. They are tireless and spend hours with students in after-school hours ensuring that they not only master the current curriculum but that they get caught up at the same time. They refuse to allow students to fail. My favorite comment came from a teacher named Melissa who was talking with a student one day about the low expectations the student had for herself:
Student
:
Well, I'm not doing it. I'll take the F. I don't care.
Melissa, Magical Teacher:
I know. I'll have to care for you until you do. Now, let's do this together.
And they did. And the student found success for the first time ever. Those kinds of occurrences happen more often than you'd think because all we like to talk about is "failing schools" and what teachers aren't doing. I can assure you, plenty of teachers are going far above and beyond just to get students to 
attend 
school, much less do well at it.
What Can You Do?
You have a voice. I'm going to ask for your support on something. There is a call to action for these issues called #kidsnotcuts and
I'd like you to pledge by going here
. I'll be listening to a podcast tomorrow called
What's Ahead for Education in the Lame Duck?
with education experts to further this discussion. You can
click this link to listen
in and
ask questions via a Twitter party
by using the hashtag
#kidsnotcuts
.
Join in on the conversation on Tues, Nov 13, 2012, 10 am PT/ 1 pm ET.
And eat your vegetables.
3 Comments
|