by Mocha Momma
on
December 30, 2012
Where have I left off in the last post? Oh, yes. Travels and family and food and motorcycles and friends. That's a great list so far and 2012 wasn't a total disappointment, though it was challenging at times. Last year,
I put together something similar
in a
two-part post
. Actually, you may notice that those links take you to the new blog I'm building with the fabulous
Schmutzie
and her
Ninjamatics design group
.
It would make sense to be linear about this second part of my 2012 in pictures, but I have to admit that I am more excited about this upcoming event than I've let on so far.
Maybe because, for once in my blogging life as a mom who started this nearly a decade ago when her eldest was still in high school, I realize that this is truly
her thing
. It's
her
day,
her
dress,
her
ring...oh, and the husband-to-be fits in there somewhere (KIDDING, I LOVE YOU KOLIN) so I don't want to take anything away from it. I agreed to buy her dress and she found a gorgeous vintage 1950s Grace Kelly of a thing (which, sorry, but I'm a girl and I HAVE to tell you that we got it at 50% off and quite the steal), but still. This is her chance to have a wedding and not have her mother blog the whole damn thing so I'm respecting her wishes.
I suppose I could just get married myself and blog that, no?
NO. I was testing you. You're failing so far. Snap out of it.
Looking to the heavens. I do so like the occasional self-portrait profile shot.
I am still working hard on my garden. It tests my patience quite a bit, but every year I get a little bit better. We have a stone in our garden that reads
As the garden grows, so shall the gardener
. That phrase applies to a lot of other things, too.
Mason, on the phone. Nearly always. But he no longer makes weird faces when I shove a camera in his face. He just looks nonplussed.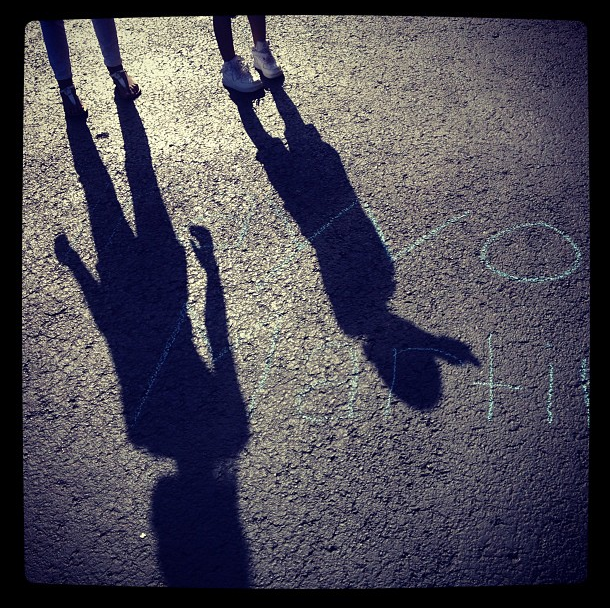 I snapped this picture with my phone after school one day when neighborhood kids came to play on the blacktop at my school where they wrote Trayvon Martin's name everywhere. It was surreal to watch children do this and this year will forever be marred by this tragedy. It took on a personal mission for me about violence and race that, unfortunately, I felt again when Sandy Hook happened.
The Cuban has never bought me flowers, only bulbs and seeds to plant into our garden. Actually, we have a fairly unconventional relationship anyway. We don't want to marry one another because we have each been burned badly in divorces in the past, but we love each other more than we've ever experienced before. Our backgrounds are vastly different, but we feel sometimes like we're the opposite sex version of the other person. Just this year we celebrated our 3rd Christmas in our home. Neither of us expected to be here when we met years ago on our blogs. It was a great friendship that grew into an ever better relationship until we decided we didn't want to have a long-distance relationship anymore. He got a tooth pulled this summer and he HATES DENTISTS so I coaxed him into it and held his hand and promised to take care of him. The dentist, a friend of the family, told him he could have as much ice cream as he wanted (that man can put it away like I've never seen) and, for the first time, I did the cooking (okay, I opened up ice cream containers for him and handed him a spoon) and took care of him. After a week of pain, he sent me flowers and, since it's not something he'd done before, this was a profound act. In 2012, I loved him more. Could I love him even more in 2013? Can we keep making this work and get better?
Yes. That wasn't a test. That's my affirmation.
Yes, the grass needs to be cut, but look at all the green! In the midst of grey, dull winter that we're currently experiencing as of this writing, I have forgotten how green the yard could be. We did a better job this year of taking care of the yard.
Mallory and friends at the 4th of July fireworks display. This year I noticed how strongly Mallory feels about family get-togethers and how insistent she is that we do things. Prior to every holiday she calls or texts to ensure that I don't already have plans so she can come up with something. Family traditions belong to her and I give her a lot of credit for coming up with new ones and making sure we make memories at every opportunity. I love how she's not wasting Life.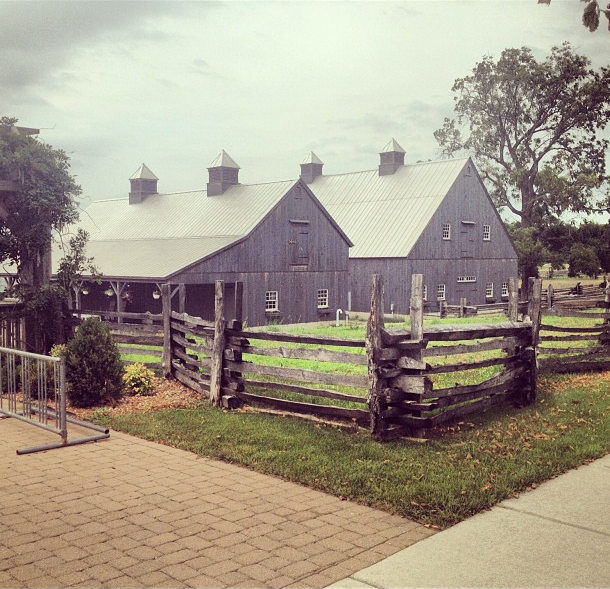 When we allow ourselves to dream of our life together, The Cuban and I dream of things like this community farm. Wouldn't it be fun to open one, watch plants and vegetables grow, and then share that with your community? I think he'd also like to cook them up in new ways and have an on-site kitchen where he could do demonstrations. Okay, 2013, I've said that aloud now. You can go ahead and put this into motion to get it started.
When I fell in love with NYC this summer I did so because of the wonderful people I met and because of Jenny's Red Dress that allowed me to do something I never dreamed of doing. Soledad O'Brien is a gracious woman who told me she knew who I was. I never dreamed of that, either.
There were 2 free days for me to roam around NYC and take in all the sights and sounds and colors of the city. I didn't waste that, either. There is so much to see and so much walking to do. Truly, I fell in love with that city this year like never before.
I played with the tilt-shift on my camera phone and was amazed at what it could do with my inexperience. Thank you, awesome apps that came out this year.
If you look behind Alex's head you can see the "Where Harry Met Sally" sign at Katz's Deli. He taught me to use the subway and took care of me when I got to New York this summer. Alex is from Springfield but moved to New York so I try to see him when I can.
Somewhere in the city where I couldn't help but look like a tourist and stare up at gorgeous buildings and blue skies.
In an unexpected twist of fate, I had lunch with my friend Erin and
Lisa Leshne, an agent
she was talking to about writing a book. Erin pushed me to talk about what I've been working on and Lisa read it that night and came back to my hotel to sign me as a client the next morning. I kept saying, 
"It doesn't happen like this, does it? I am so lucky."
and everyone pretty much agreed with that. We've been polishing up my proposal and she will shop it to publishers in 2013. Another Life List goal
nearly
met.
I met up with my friend Missy, owner of
Bitten & Bound
, in Milwaukee earlier this summer when we were riding motorcycles together. So, when her flight was cancelled she hopped in a cab and came to stay with me in my hotel and we went on an impromptu Instagram tour of NYC where we played with apps and filters and just went CRAZY with picture taking. They are among my favorite photos from this year. She was a big part of my year during 2 separate months of it and just being around her is inspiring. Again, like meeting an old friend you've already known.
Being on Katie Couric's new television show was also
unexpected this year
. One day I got a DM on Twitter from Jenny that said to maybe expect a phone call from Katie's people to maybe possibly, you know, talk about being on her show. That's Jenny for you. Modest, silly, and telling you about national television when you're chatting it up on Twitter when you have to keep it a secret and not talk about it for months.
From left, Katie Couric, Karen, me,
Erin
, and
Jenny
. It was surreal enough to be on tv but then she gave me the Valentino dress that I wore on the show and I thought, 
"Okay, 2012. You're not sucking SO much." 
They didn't let me keep the 
My Fair Lady
style necklace that I wore. Hey. 2012 can't give me 
everything.
When my flight was cancelled,
Laura
and
Isabel
swooped by my hotel in a cab and took me to eat pizza in Brooklyn. It was hot and sticky and fun and taught me that I have more friends than I realize. Those always end up being the best times, don't they? When you have no plans and hatch plans with people and just go with it.
I traveled by myself so much this year that I felt bad about leaving The Cuban at home so we took a day trip to the Mississippi river and just drove wherever wanted for the day, ate at 
Fast Eddie's Bon Air
, and sang along to music we hadn't listened to in years. (Pro traveler tip: search for a "road trip" music station on Pandora.)
Abe Lincoln hat. These are all over town and sometimes, when I can, I act like a tourist in my own touristy town. Normally, I get irritated with all the visitors on the weekends when I have things to do and, like many people here, I avoid certain areas. I'm glad I did that this year.
From my walking tour of NYC I got in the habit of taking pictures in the middle of the street and tried not to get hit by a car. I wonder why I never did this in Chicago when I was growing up (not that I haven't played chicken with the CTA) and I promised myself that I'd pretend to be a tourist there some weekend in 2013.
My girlfriends have a get-together every summer and do a spa day but this year we traded that in for a winery weekend. These bottles that my friend Krista designed have the bottom cut out and she puts candles in them. Mallory will have these at her wedding so I'd better get to drinking a lot of wine. Send bottles, people. You can come drink them with me.
This scarf came in the mail as a gift from ONE.org prior to our trip to Addis Ababa, Ethiopia with the ONE Moms.Before I launch into all the Africa Talk I will say that something I thought would happen this year that didn't (because Africa 
did
happen) is that I put off starting classes for my doctoral degree. It wasn't easy and I spent a lot of time and energy into applying and taking tests. I mean, that part was easy but time consuming. What wasn't easy was giving it up when the opportunity for Alaska came along. Classes were to start the weekend prior to my leaving and I pouted around the house for days until The Cuban had a Come to Jesus with me. 
"You've got a lot going on right now and two big choices about what to do. Which of the two things can wait? University classes? Or Africa?"
After that, I loosened my grip on classes, but I haven't let go. Maybe 2013 will allow that to happen or maybe something else big will come along. I'm ready to leap a the big things, so that all remains to be seen.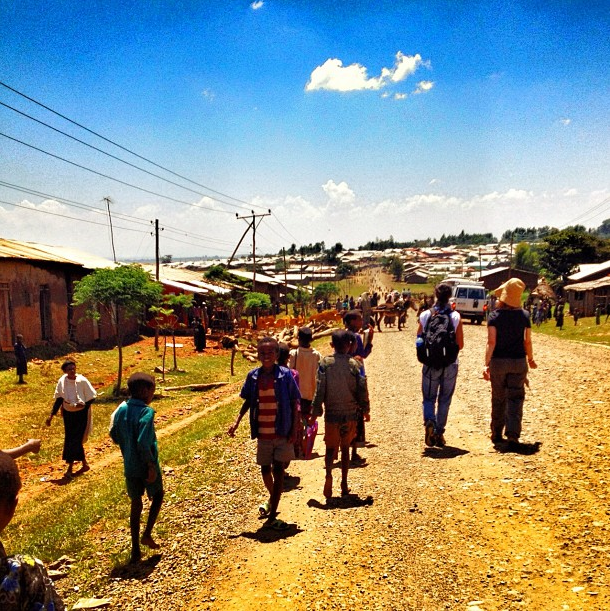 On our travels in Ethiopia, we visited a small village where they're helping women become farmers. I saw single mothers living in small homes they shared with goats learning to plant vegetables they've never heard of before and also learning to cook them in new ways and create sustainable farms for their families. I'm pretty sure I wouldn't see that in a university classroom and it consoled me for a hot minute to know I was 
actually seeing the world. 
It's hard to find someone with a more warm smile than Alice of
Savory Sweet Life
, but these kids sure gave her a run for her money. The thing I learned about traveling to a place like Addis Ababa was that people are joyous for reasons beyond our own comprehension and instead of crying for their lot in life and weeping over the human condition we should give them their dignity and share the joys they 
do
have. Children are the best expressions of this.
I met the beautiful and warm Maya on this trip and she recently invited me to visit her home in Harlem just before Christmas. Her voice and accent are so comforting to me, but it's her huge heart that I just adore. I haven't met very many people like her and she is a treat for me.
I'd met
Christine
prior to this trip when we both Advisory Board Members for Brand About Town (and she makes the World's Best Brownies) and I'd know of
Asha
for years from her site Parent Hacks. I'm thrilled that they've written a book together called
Minimalist Parenting
because, yo, that is exactly the way I've parented so I'm happy to see it in print form. Score one for validation of my parenting! Just last week while in New York, Asha brought her family and we got to meet up and have a reunion dinner. Lesson: make time for the important people in your life. This is a practice I'm happy to continue into the new year.
This is what pure joy looks like and it's beautiful. It sounds funny, but I liked that the girls had short hair because it makes you look closer at their faces and eyes. I think this little girl is stunning and another reminder for me that I made the right choice to postpone that higher degree.
Photo credit to ONE/Karen Walrond
I met Rana on my trip to Ethiopia with the ONE Moms and we talked about so many things that I felt like I'd met her before in this lifetime. When I reached out to her about doing some freelancing she offered me a part-time job right away with her company Little Pickle Press. My nights are filled with being their Social Media Director and I've written a few things for the website and, for someone who loves to read and can incorporate social media with it, this is the perfect side job for me. I love it so much and believe wholeheartedly in what the company does.
This African map written in Amharic (or possibly Oromio, I can't remember which) is one of those reminders that not everything is in English. Sure, that's an obvious one, but for someone who hasn't traveled much I found this ridiculously cool.
2012 was definitely the time for a new pair of glasses. Actually, it was
way
past time for them but I never got around to getting them until I finally lost mine and walked around for a week with a pair of The Cuban's extra glasses. The whole time I walked around squinting out of my left eye and had a stupid Popeye look, but without them I couldn't even drive to work. My new frames go well with this FashionABLE scarf that Rana sent me for Christmas. So many of my friends bought scarves once I shared the site with them and even a few students, too!
If you go to the website right now
you'll see the best news ever:
the company is SOLD OUT
. Why is that good? Because you're helping get women off the streets into a sustainable, fair-wage job and that heals the planet. Of all the things I contributed to this year, having this company sell out is my absolute favorite.
Then, there's this. My greatest contribution. The best things I've ever done. The reason I push myself and learn to love the world. Only my Maddie is missing, but she spent the holidays with her parents and I am happy she got to do that. When I meet new people I still have to tell the story about having another daughter who has her own parents and brothers apart from her siblings pictured here, but I count all the blessings she's brought to my life and wouldn't begrudge her anything. A source of great joy for me is that Maddie will stand up in Mallory's wedding as her maid of honor. Five years ago I wouldn't have thought this possible or even that all my children would know one another, but this is our family. It's imperfect, flawed, broken and fractured in places, but it's unique and full of love and adoration for each other and I don't know any other like it.
So. We have a wedding to plan for 2013 and I'm certain that grandchildren aren't far behind that. One son is in college and the other has decisions to make about that. I'll have all four kids in one place for the nuptials. My writing will continue. The Cuban will be my love. Life is plowing forward as it always does. If I had to choose a word for 2013 it would have been 
CHANGE
, but I'm calling 2013 now as 
CONSIDER
. I want to spend less time talking and more time in the quiet so I can hear others and consider new possibilities. I want to
consider
that life is worthy and phenomenal and that people are precious and that prospects and solutions are possible.
Just close your eyes for a moment. Consider the new year. It could really be great, couldn't it? Let's go make that happen.